COVID 19 - URGENT
I am Dr. James Gingerich from Maple City Health Care Center.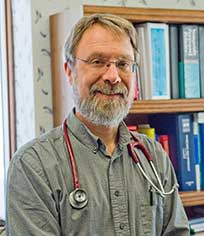 COVID 19 is spreading rapidly in our community, and we are worried. We have been testing for the disease at our testing site in the parking lot of College Mennonite Church, and what we're seeing is that our Latinx friends and neighbors are 2 or 3 times more likely to test positive than people who have been tested elsewhere in Goshen.
The more people who have the infection, the more quickly it spreads. We are facing an outbreak—a sudden rise in the number of cases of this disease in our community.
It's a time to be even more careful not to spread the disease.
We care about you and hope you will do everything you can to take care of yourself and your family and friends in the coming weeks. We know that factories are opening up, and many people have to go back to work in order to keep their jobs and provide for their families.
If you have to go to work, and you don't have personal protective equipment there and can't maintain a safe distance from coworkers, please, if at all possible, stay away from your family during this time. Please don't bring the virus home to your children, your partner, your brothers and sisters, aunts and uncles, and your grandmas and grandpas.
If you need a place to stay so you can avoid bringing the disease home from work, please contact us.
If you are feeling sick or have sick people in your household, please get tested. We are offering free tests with results in 15 minutes at the parking lot at North Goshen Mennonite Church, 501 North 8th Street. We are focusing on people who have symptoms or who have family members who have tested positive. We hope to triple our testing in the coming weeks, so we can test even more people.
If you think you have been exposed to someone with COVID 19, please quarantine yourself for two weeks. If you have been less than 6 feet from a COVID positive person for 15 minutes or more, please quarantine yourself. If you had longer exposure to the virus even at a greater distance, please quarantine yourself.
What does it mean to quarantine yourself? Don't leave your home unless you absolutely have to. Call ahead if you need health care. Don't share dishes, towels, and bedding with others. Wash your hands for at least 20 seconds, with soap and water, as often as you think about—and think about it often. Cough or sneeze into your elbow or into a tissue, and then throw it away.

If you have COVID 19, you need to isolate yourself, away from healthy people, in order to keep from spreading the disease.
If you need medical attention, contact us and we will try to see to it that you get help.
If your church or another organization you are part of might be able to provide housing for people who have to stay isolated, please let us know.
Other important ways for all of us to show respect for our families and neighbors include these:
Stay home as much as possible.
Avoid gatherings of people and try to connect with them in other ways.
Maintain social distance: stay six feet away from others in all public places
Wear a face mask whenever you leave home. Covering your mouth and nose in this way protects others and shows respect and concern for them. We're happy to provide masks for anyone who needs them.
We can face this difficult time together. We can look out for each other. Thank you for being our neighbors and for doing your part to slow the spread of this virus.